By Isabelle Audet, Bc.Sc., M.Env
Technical Advisor
Between 2009 and 2013, the "Climat municipalités" Program of the Quebec's "Ministère du Développement durable, de l'Environnement, de la Faune et des Parcs (MDDEFP)", financially supported municipal organizations in the reduction of their greenhouse gases (GHG) emissions through the elaboration of a GHG emissions inventory and of an action plan. This program has been created in accordance with the measure 5 of the Quebec's 2006-2012 Climate Change Action Plan and was extended through priority 2 of the new 2013-2020 Climate Change Action Plan. Now closed to new enquiries, the MDDEFP is currently working on the second version of the "Climat municipalités" Program which will be adapted to the municipal needs.
The Program had for principal objectives:
Help municipal organizations  to obtain an accurate GHG emissons inventory for their territories in order to effectively undertake reduction measures;
Motivate municipal organizations to elaborate a targeted action plan toward a sustainable GHG emissions reduction process;
Help municipal organizations to prevent and to adapt their activities to face incoming climate change impacts on their territories;
Support municipal organizations for the sensitization of actors (citizens, non-governmental organizations, public institutions, private firms, etc.) who can contribute into the municipal GHG emissions reduction action plan implementation and to the municipal climate change adaptation.
According to public data offered by the MDDEFP, 253 Quebec municipal organizations  are now engaged in GHG emissions reduction, thanks to the "Climat municipalités" Program. Thus, around 80 % of Quebec's population lives on a territory managed by a municipal organization holding a GHG emissions reduction strategy.
Enviro-access is proud to have accompanied more than 50 municipalities and 3 regional county municipalities (RCM) through this program. Our involvement with these municipal organizations helped us to better understand their specific context and issues and also to elaborate efficient and sustainable GHG emissions reduction solutions.
Our work also gave us the opportunity to depict a representative portrait of municipal GHG sources, as follow:
Sources of municipal GHG emissions
"Climat municipalités" program requires to separate GHG emissions into 2 sectors and 5 categories. The corporative sector includes municipal buildings, motorised equipment, and water treatment while the collective sector includes municipal waste and transport.
All municipalities, regardless of its size or location, show essentially the same characteristics in GHG emissions, transport of the collectivity being the main GHG source. Figure 1 presents the average distribution of municipal GHG emissions for all 5 categories. Figure 2 exposes emissions for the corporative sector only.
Commitment of Quebec's municipalities in GHG emissions reduction
In addition to get an idea of their GHG emissions, participating municipalities committed to reduce their GHG emissions through a five-year action plan. Divided into the same sectors and categories, this action plan includes precise GHG emissions reduction targets adapted to each municipality's context. However, certain trends can be observed. Here are some statistics[1]: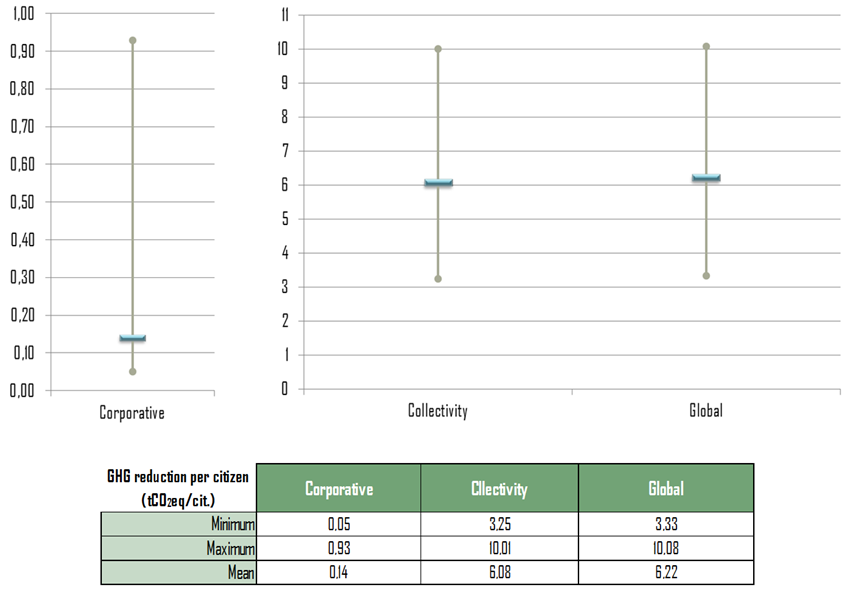 Commitments of all municipalities and RCM who worked with Enviro-accesswill give ways to the reduction of GHG emissions by 76 860 tCO2eq before 2019. Here are some examples of actions that will be implemented by those municipal organizations:
Employee's sensitization to "Ecodriving"
Adoption of a new protocol guiding the replacement of old municipal vehicle for ecoefficient vehicle
Sensitization/regulation against vehicle idling
Replacement of heating system in buildings
Improvement of energy efficiency in buildings
Low-price composters
Low-price equipment kits for the reduction of drinkable water consumption
Sensitization about the use of carpooling and old vehicle disposition
Sensitization about grasscycling
Guidance for the adoption of sustainable behavior at work
Efforts deployed by those proactive municipal organizations for the elaboration of their GHG emissions inventory and action plan deserve to be recognized. The Carbon CareTM Certification, already received by 38 of them, represents a tangible mean to proudly display their sustainable GHG emissions management and their commitment to the fight against climate change. The strict process that should be completed to obtain the Enviro-access' Carbon CareTM Certification was built in accordance with the highest GHG standards to ensure its credibility.
---
[1] Based on the 54 municipalities and 3 RCM, from 200 to 160 000 citizens, who worked with Enviro-access in the framework on the "Climat municipalités" program.







by