By Elsa Joly, eng. jr. M. Sc., GHG-IQ
Technical Advisor
 In the past years, the government of Quebec and Quebec municipalities have made and continue to make large efforts to reduce their greenhouse gas (GHG) emissions to curb climate change. This was especially done thanks to Quebec Ministry of Environment's Climat municipalités program, which provided financial support to municipalities wishing to establish their GHG inventory and develop a local Action Plan. However, the reduction of GHG emissions alone will not stop climate change but rather limit its effects. The consequences of climate change are already being felt, which is why it is crucial that municipalities begin their process to adapt to climate change, in parallel with their mitigation efforts.
The effects of climate change can already be observed worldwide, with the retreat of glaciers, rising sea levels and an increase in the number of floods and draughts. In Quebec, the frequency of heat waves and intense rainfall is rising, as well as the number of freeze-thaw cycles. We also observe a reduced snow cover and a decreasing number of frost days, though not this year.
These changes can have major impacts on municipal territory and operations. For example, the increased frequency of intense rainfall can cause not only landslides, sewer backups, contamination of surface water, but also impairment loss of properties. The increase in droughts and heat waves pose a risk to the health of vulnerable people, while snow and ice storms can impede the proper functioning of municipal services (emergency vehicles blocked by snow, waste collection interrupted, power outages, etc.).
All these consequences result in additional costs for a municipality, and these costs are likely to grow even more in the future[1]. It is therefore essential for municipalities and regional county municipalities (MRC) to start evaluating the impacts they face or might face in the future and get prepared to overcome them. This can be done through a Climate Change Adaptation Plan, which involves the following steps: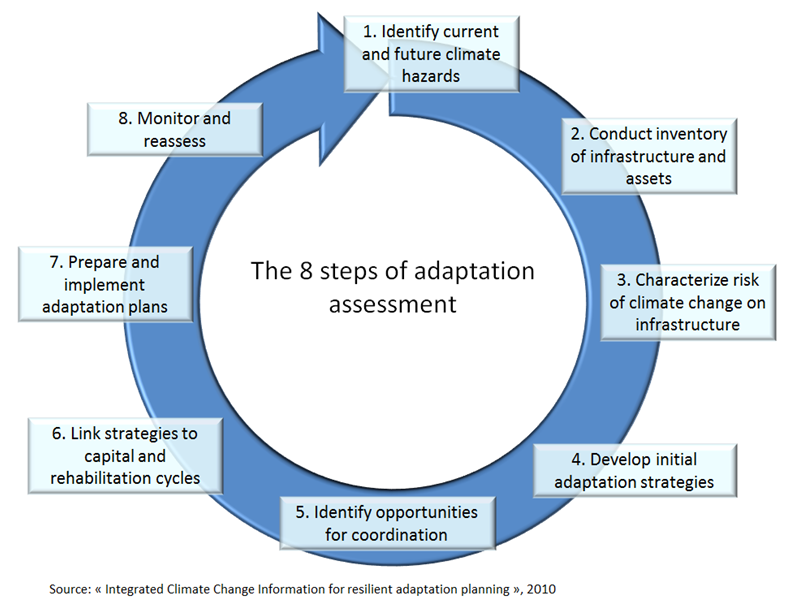 In Quebec, two cities already released their adaptation plan, Sherbrooke (prepared with Enviro-access' support) and Trois-Rivières. In addition, Montreal, Quebec and Laval have also started the process. Many other examples outside Quebec confirm the importance of developing an adaptation strategy, including Toronto, Calgary, New-York and Boston.
If you want to engage in this process, the Federation of Canadian Municipalities (FCM) Partners for Climate Protection program provides support and a range of resources. With its strong experience with municipalities in Quebec, Enviro-access offers customized support to help you develop your adaptation plan.







by